After a brief rest - and time for blogging, we met Colleen's friend Courtney and a friend of hers for dinner. Colleen had been dying to eat Mexican food so we went to a place called Amigos in Itaewon area.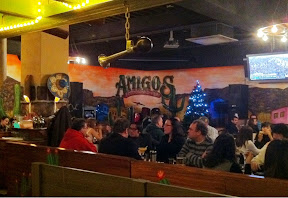 The food was actually quite good and very like Mexican food in the US, which is just what they wanted...
Saturday was a long day - after dinner we took a bus up Namsan and went to Seoul Tower.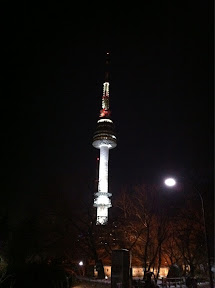 The road up to the tower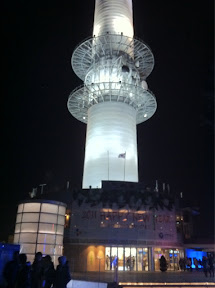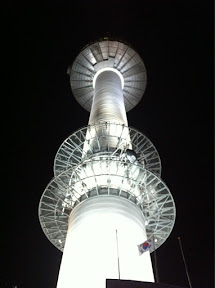 Couples bring or buy locks, write their names on them and lock them to the chain link fence and now to the metal trees as a symbol of their being locked together. Here are some of them.
Seoul extends as far as you can see in every direction
Lights turning colors
Finally to the last chapter of the day. We went down to JJ Mahoney's - bar in the Hyatt with live entertainment. The group performing is called Magenta and has about a six month gig here. During a break when most of the people watching went out of the room, we ended up talking to one of the band members which was quite interesting. They were great entertainers who really engaged the audience even though they probably only understood a small amount of the words. But it was popular dance/pop/club music so they were probably familiar with it at least. There were more women than men in the crowd and some groups of girls would giggle when they heard words like "ass" or "freaky" :)