Started out by sleeping in a little and then decided to find something to eat in the hotel rather than making the trek down the hill first. Figured out we were in for (financial) trouble when they poured champagne...
It was a wonderful buffet though - maybe one of the best I have seen. Here are the appetizers I chose
Next thing we did was actually to sit around the room a little - I wrote several blog entries as I was getting seriously behind. Took a short nap even. Then we went down to the Itaewon area (foreigners shopping area) again in search of a foreign food store for Colleen and place to have coffee - dragging Bill along with us. There is a street behind the main one that is full of foreign restaurants of almost every type you could think of. Can't tell too well in the picture but here it is if part if the street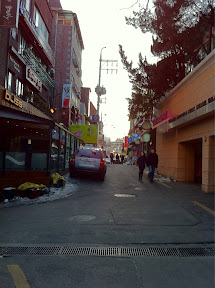 A store we passed several times and loved looking at the wide selection of dresses!
Catholic church
Just an interesting building I saw while waiting for Colleen to use her bank's cash machine.
Colleen did find the store and bought Swiss Muesli and Skippy Peanut Butter. Amazing selection of foods from around the world.
We stopped at Coffee Bene (found all over here) and had coffee then Colleen selected another Western food - Quiznos!
Cute sign - Colleen says "cute" is very popular here (remember the poster of the cute north and south Korean soldiers?)