Jungwon Han, whom I knew through my preemie business, came to Incheon airport to pick us up - and drove the fairly long distance to our hotel, h along the way to see office and baby store operation. Then we picked up Colleen and he drove us to a restaurant, Yongsusan.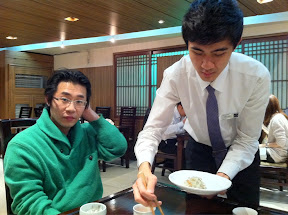 We had a traditional Korean meal- it was a fixed menu of at least a dozen items brought a couple at a time to our table and served to us.
Every course was wonderful. Move over, Italian food... this was right up there!
This was dessert
Possibly we had our best meal first but this was a memorable and wonderful beginning to our time in Korea! Thanks to our very gracious and generous host!