Demilitarized Zone - probably the least aptly named place on earth. First photos are on the drive there - from the bus. You can see barbed wire all along the Han River to keep North Korean spies from entering South Korea. Our guide Yong Park told us that when he did his army duty he was stationed along here watching for spies. You can see a small guardhouse along the fence. About half of the South Korean soldiers are stationed near the DMZ guarding the border. The mountain in the distance is North Korea.
More views of North Korea
Yong Park and our tour group. First stop was the unification bridge where military people checked the list of passports that had been submitted and then check IDs and give permission to enter. No pictures were allowed from the bus ride after that point.
Area around Dorasan Station - built in hopes of using it to comment not only to North Korea but beyond also. There was a lot more snow than in Seoul.
Map of proposed connection to trans-Siberian railway - dream of mine is to take that between Siberia and Paris or London.
Beautiful empty unused station
Colleen and posters. We found it a bit incongruous to see the cutesy depictions of soldiers. The real ones were very solemn and business-like....
More of the empty station.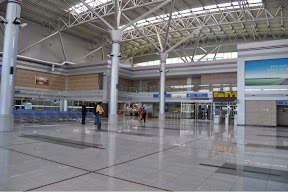 Model of the station area.
From an exhibit commemorating President Bush' visit to the station when relations were better and hopes were high.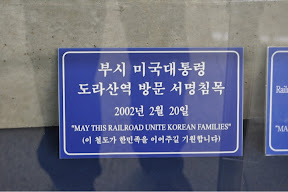 Here we are at the observatory up on a hill. We could not take pictures after crossing the yellow line so that nothing could be taken of the actual DMZ area. But here you see us over the line going to go look out.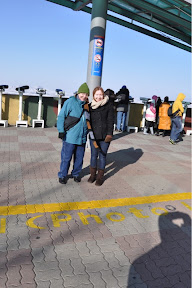 North Korean mountains in the distance are all completely treeless because every tree was cut to provide fuel to heat homes and then they dug up the tree roots to burn.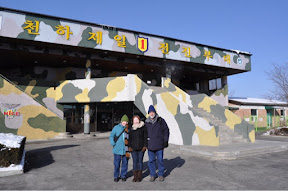 Visiting the third infiltration tunnel - discovered in 1978 -and the exhibition hall. No pictures were allowed in the tunnel. It was being dug in order to have a passageway that would allow thousands of soldiers to get within South Korea fairly close to Seoul very quickly. Four tunnels have been found so far, the last one was in 1990. The third tunnel was being dug using dynamite sticks and manual labor - down 78 meters from the ground level to avoid detection. Here is a diorama from the exhibition center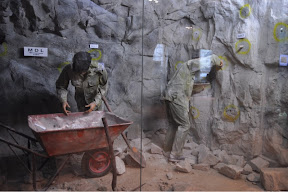 Seismic instruments could not pick up this activity. But knowledge from a north Korean who confessed it alerted the south but still it took years to find the ones they have found. The walk down to the tunnel is about 1/4 mile and very steep - going up was twice as steep but I made it without resting - there are chairs at 2-3 places along the way. This shows the tunnel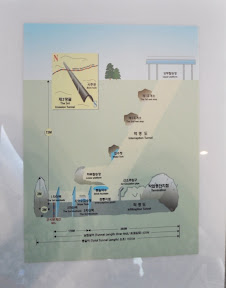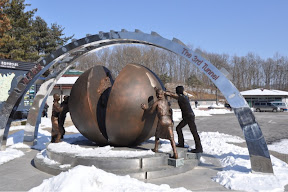 Diorama of DMZ from exhibition center
Our tour group by DMZ sign
Touring the DMZ was really an interesting experience - this is a zone set up by a ceasefire between the UN and North Korea but supervised by two countries still technically at war. It was a moving experience and also made me think of my uncle Tom who was in Korea during the war as a young man.